Marking Time and the Voyage to Vietnam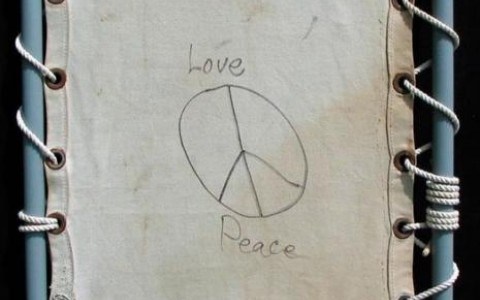 During the turbulent era of the late 1960s, many young soldiers and marines boarded the troopship General Nelson M. Walker for the long voyage to a country from which some would never return. They slept on canvas bunks, and used them for more than sleeping. These young men drew, scribbled, and wrote messages on the canvas for those who would soon follow. In 1997, the bunks were removed, preserved, and saved by mere chance thanks to the Vietnam Graffiti Project (VGP), which was founded upon the discovery of the artifacts. Thus was the traveling exhibit, "Marking Time: Voyage to Vietnam" born.
Now showing at the U.S.S. Kidd Veterans Memorial and Museum, this exhibit honors these young men who were heading off to fight in a very unpopular war and tells their stories through their own slogans, writing, and artwork reminiscent of the times - including anti-war sentiment, humor, and politics. This traveling exhibit will be on display through February 28, 2018 from the hours of 9:30 a.m. – 3:30 p.m. For more information, please contact Development Coordinator Christine Bruce, via phone at (225) 342-1942, Ext. 13, or via email at CBruce@usskidd.com.