Follow the Big Muddy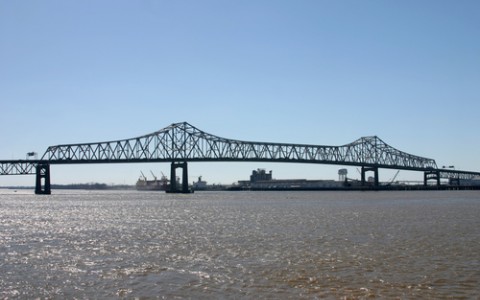 Located on the eastern bank of the fabled Mississippi River, Baton Rouge is the second-largest city in Louisiana. Affectionately known as the "Capital City," Baton Rouge is undoubtedly the state's cultural, not to mention gastronomic, center. This means you're set to encounter a combination of history and natural color that's hard to beat, wherever you look. This walking tour of Baton Rouge highlights within a stone's throw of the Crowne Plaza Executive Center will convince you to slab on the Coppertone and begin on a sun-filled trek.
Due west of the hotel is Louisiana State University, which planted itself down in what was then known as Pineville, Louisiana. The flagship university's football team has a live mascot, Mike the Tiger. You and your family can visit Mike in his habitat, a beautiful and spacious enclosure located right on the LSU campus. It's one of the most popular attractions there is! Because the school butts up against the winding river you've got options—take a stroll across its many campus colleges and student eateries or continue following the Mississippi north. Don't worry, you don't have to raft it like Huck Finn if you stick to River Road.
Pretty soon you come across Magnolia Mound Plantation House, an antique home complete with costume-clad tour guides. If the dilapidated is your thing but all that dust is making your eyes red then set your GPS for 13th Gate Haunted House, one of America's premiere themed mazes with over 160 professional actors and Hollywood special effects. Got your senses back? Before you know it the monumental USS Kidd Veterans Memorial comes into view. A must for US history buffs this one-time active Navy battleship is a treat at just eight bucks a head. But keep it up and press on to Louisiana's Old State Capitol before circling back to the Crowne Plaza.
Address: Throughout Baton Rouge
Thank You